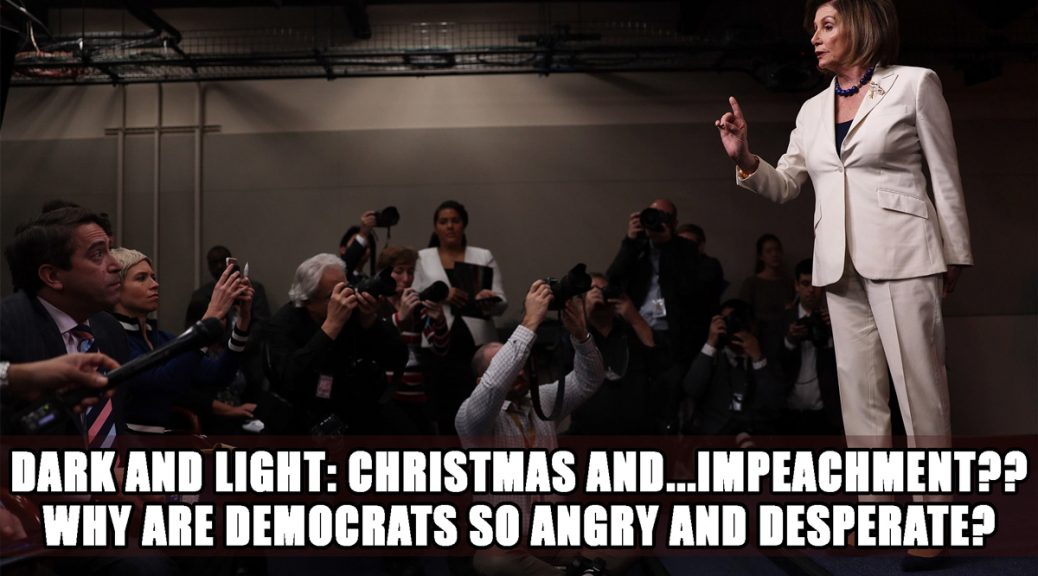 Light and Dark: Christmas and… Impeachment?
Light and Dark: Christmas and… Impeachment?
Podcast: Play in new window | Download
Subscribe: Apple Podcasts | Spotify | Stitcher | TuneIn | RSS | More
Show Summary: Well, we tried to have a show about Christmas and the start of Advent but then Nancy Pelosi stepped to the mic. Why are Democrats so desperate to push a flailing impeachment? It's like they're worried about something. What could it be?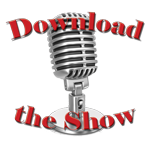 Jump to podcast | Jump to Links & Info
Original Air Dates: Dec. 7 & 8, 2019 | Dallas Jenkins & James Hirsen
This Week:  The nonsense of listening to non-witnesses who try to testify about what they didn't hear, but were sure that what they didn't hear was something that someone thought, continues.
We tried to take a break from that nonsense by recognizing the start of Advent—and at least we get halfway there. The first half our show, we welcome back Dallas Jenkins.
The Light Side: The Chosen
Mr. Jenkins is the director and producer for an incredible series The Chosen, the largest crowd-funded media project ever. Everyday people helped launch this incredible project to be a part of creating a series depicting Jesus and the everyday people He chose to be a part of his earthly ministry.
Download the free The Chosen app to watch all eight episodes for free! And help share it to people all around the globe. Available from iTunes or Google Play store.
We talk with Mr. Jenkins to get more insight into the series, which just launched episodes 5–8, his perceptions on the stories he chose for the series, and the new and exciting ways to watch and share it with people all around the globe. It's a truly remarkable way to share Jesus' message and life, right before Christmas.
The Dark Side: Impeachment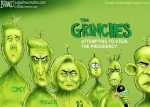 Then, dark side. We'd planned to talk Christmas, movies, pop-culture and a little politics with our next guest, James Hirsen. But then just hours before our interview, Nancy Pelosi took to the mic and announced that—despite Wednesday's disastrous hearings with the highly partisan testimonies from the Democrats' "constitutional experts"—the Democrats were lurching forward to draft articles of impeachment.
So, instead of talking Christmas we tap into James Hirsen wearing his attorney hat, and his recent articles of why the Democrats really should not want the impeachment to head to the Senate.  Mr. Hirsen walks us through his analysis of how they're moving forward in spite of the reality of no evidence.
And don't miss his discussion on how President Trump's almost off-hand inquiry about Ukraine having the Crowd Strike server may have been what really set off the latest impeachment attempt and why.  Where is the server and why hasn't it been turned over? Or destroyed like so many other pieces of hardware that had evidence on the Democrats?
Democrats in power are probably a little nervous about that.
Podcast Version
Never Miss an I Spy Radio Show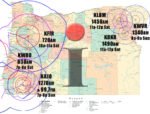 Five Different Times, on Seven Different Stations. Listen anywhere! All stations stream live!
Saturdays
10a – 11a: KFIR 720AM (entire Willamette Valley) | Direct Link to KFIR Live Stream
11a – noon: KLBM 1450AM (Union County) | Direct Link to KLBM Live Stream
11a – noon: KBKR 1490AM (Baker County) | Direct Link to SuperTalk Live Stream
7p – 8p: KWRO 630AM (Oregon Coast & Southeastern Oregon) | Direct Link to KWRO Live Stream

Sundays
8a – 9a: KWVR 1340AM (Wallowa County) | Direct Link: KWVR Live Stream
7p – 8p: KAJO 1270AM or 99.7FM (Grants Pass/Medford) | Direct Link: KAJO Live Stream
Links Mentioned
To watch The Chosen, download the app from iTunes or Google Play store. You can then stream to your TV, Amazon Fire TV or other devices

Why CrowdStrike May Be the Real Reason for the Impeachment Charade (

Hirsen, Dec 2, 2019

)

Why Democrats Should Fear a Senate Trial (

Hirsen, Dec 3, 2019

)

Here's What Nikki Haley Says Is Really Behind Democrats' Impeachment Push (

Daily Caller, Dec 4, 2019

)

Jonathan Turley: No Bribery, No Obstruction in Trump's Actions (

Breitbart, Dec 4, 2019

)