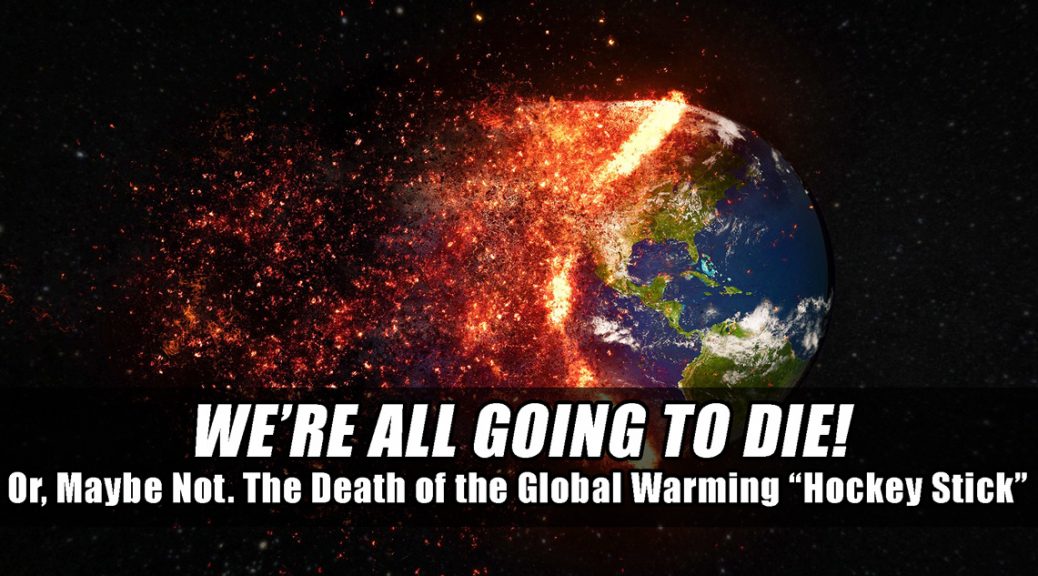 The Beginning of the End? The Day the Hockey Stick Broke
The Beginning of the End? The Day the Hockey Stick Broke
Podcast: Play in new window | Download
Subscribe: Apple Podcasts | Spotify | Stitcher | TuneIn | RSS | More
Show Summary: Scientific American said that without Michael Mann's "Hockey Stick" there would be no Global Warming Alarmism. Dr. Tim Ball won his lawsuit against Mann and his vaunted hockey stick—so is this the beginning of the end for the Climate Change movement?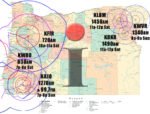 Five Different Times, on Seven Different Stations. Listen anywhere! All stations stream live!
Saturdays
10a – 11a: KFIR 720AM (entire Willamette Valley) | Direct Link to KFIR Live Stream
11a – noon: KLBM 1450AM (Union County) | Direct Link to KLBM Live Stream
11a – noon: KBKR 1490AM (Baker County) | Direct Link to SuperTalk Live Stream
7p – 8p: KWRO 630AM (Oregon Coast & Southeastern Oregon) | Direct Link to KWRO Live Stream
Sundays
8a – 9a: KWVR 1340AM (Wallowa County) | Direct Link: KWVR Live Stream
7p – 8p: KAJO 1270AM or 99.7FM (Grants Pass/Medford) | Direct Link: KAJO Live Stream
Air Dates: Sep 14 & 15, 2019 | Dr. Tim Ball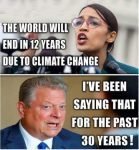 What is it that AOC has been championing?  Oh yes, we have 12 years to live. And while some of us are old enough to remember four previous "we only have 10 years to do something" events, she's a good marketer because millennials are so terrified of global warming, they've been actually committing suicide over it.
Seriously.
It would be funny if it weren't so sadly true.
Officialdom of Global Warming Scaremongering
One reason people take this nonsense of Global Warming seriously is because of official reports, like the UN Special Report on Global Warming, released in October, 2018. If you look through it, there it is: 2030 as doomsday. Just 11 years from now  as the point of no return—if we keep on our current path and don't do something. And it's mentioned 35 times in the report.
So, is it marketing? Or scientific research?
Mann's Vaunted Hockey Stick
Back in July, we had Dr. Tim Ball on I Spy Radio to discuss American exceptionalism.  After our interview, Dr. Ball gave us a heads-up about some fake numbers and scaremongering the IPCC were releasing to prop up their global warming alarmism.  We penciled him in for early September.
But then something amazing happened. Because during our wait to have him back on, he won a huge, HUGE court decision on the defamation lawsuit brought by Michael Mann, the hockey stick inventor.  The hockey stick that has become the "proof" of global warming.
Hockey Stick or Science Schtick?
Dr. Ball had been sued because he'd taken Mann's science to task and Mann, not appreciating anyone daring to doubt his science schtick, decided to sue Dr Ball over defamation.
But there was a problem when Dr. Ball asked for Mann's evidence.  Mann wouldn't deliver the computer program he's used to interpret the numbers to arrive at his conclusions.
A scientist who didn't want to reveal his data? Or his methods?  That's a violation of a basic tenant of science: always show your work so others can independently verify it. Instead, Mann cried that his "proprietary information" couldn't be revealed. Basically, Mann had created his own secret version of Microsoft Excel to interpret the data. No wonder then that no one else has been able to come up with the same results using the same data.
And that's why it's not so much a hockey stick as hockey schtick.
But it makes you wonder. If a scientist doesn't want to reveal his data, is he a scientist? Or a marketer? Or a marketer pretending to be a scientist?
And ask yourself this. Why would Mann create falsified evidence of something that didn't exist — unless he stood to profit from it?
Tune in this week for an inspiring and in-depth look at why you never give up. Especially when you're right.
And what's really exciting? Dr. Ball's win may have saved the world from this ongoing hoax.
Podcast Version
Links & Info
Dr. Tim's books can be found in the I Spy Radio store page
The Daily Kos article trying to save the doomed Michael Mann: "Tim Ball Pleads For Mercy As An Irrelevant Sick Old Man, Gets It, Declares Victory" (Daily Kos, Wed. Aug 28, 2019)

Should Michael 'Hockey Stick' Mann Be Prosecuted For Climate Fraud? (

Principia-scientific.org, May 23, 2018

) {Use graph for website}

UPDATE – Dr. Tim Ball wins @MichaelEMann lawsuit – Mann "hides the decline" AGAIN (Watts Up With That

, Aug 22, 2019

)

"The Weaver defamation case involved an article Ball wrote saying that the IPCC had diverted almost all climate research funding and scientific investigation to anthropogenic global warming (AGW). This meant that there was virtually no advance in the wider understanding of climate and climate change."

Breaking News: Dr Tim Ball Defeats Michael Mann's Climate Lawsuit! (

Principia Scientific, Aug 23, 2019

)

Michael Mann's Hockey Stick is the most laughable and widely discredited object in scientific history (The Hockey Schtick Blog, Aug 14, 2013)

Anti-science totalitarians want to silence climate security commission (

CFact.org, Mar 8, 2019

)

Educating the Next Generation to Debate Alarming Climate Claims (

CNS News, Jul 9 2019

)