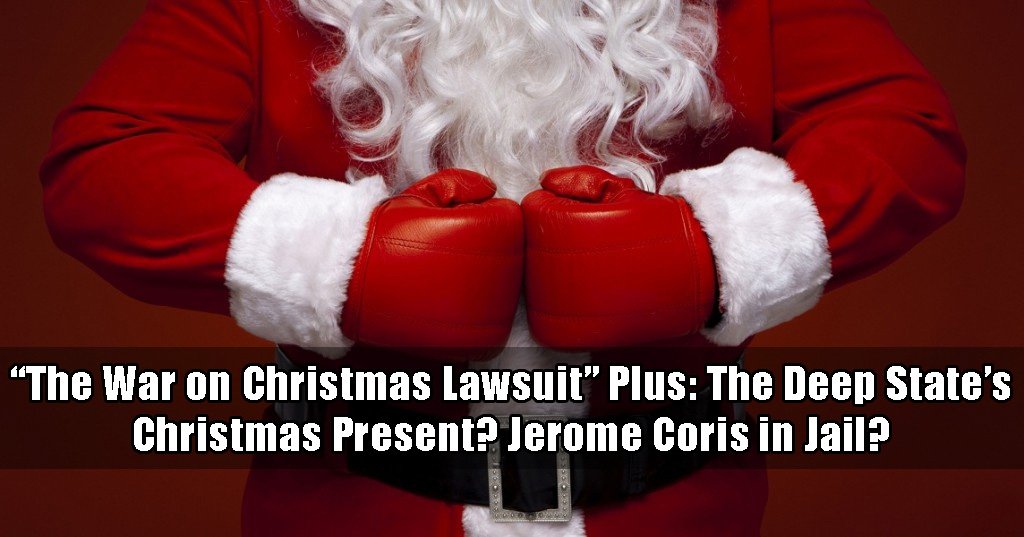 Why Does Even Christmas Require a Fight?
Podcast: Play in new window | Download
Subscribe: Apple Podcasts | Spotify | Stitcher | TuneIn | RSS | More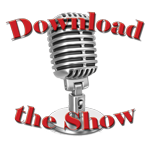 Show Summary: Our country was founded on Judeo-Christian values. So why is it that we seem to be constantly defending them— even at Christmastime? We talk with Jeremy Morris, "The Christmas Lawyer," who just won what's been called the War on Christmas lawsuit. Plus: could the Deep State's Christmas present be to see Jerome Corsi spend Christmas in jail…?
Original Air Dates: December 22 & 23, 2018 | Jeremy Morris & Dr. Jerome Corsi

Usually for our Christmas show we take a break from hard news and focus celebrating Christmas and the birth of Jesus.  But this year we had some realities of Christmas come to us that demonstrated the holiday isn't always brought to us with happy times. There's illness, fights, and actual wars that can keep families in trying times.  So, for this show we're going to look at a couple of very difficult stories for the Christmas season that truly demonstrate how faith and courage run deep in the Christian way of life.
Christian persecution comes masked in many ways in the US and in these two stories we take a look at how two courageous men and their families are pushing back.
Fighting for Christmas: The Christmas Lawyer
First up, he's been called "The Christmas Lawyer." After Jeremy Morris, who lives in Idaho, moved to a new neighborhood, the Home Owner's Association tried to stop him from holding his annual charity Christmas display.
Think Clark W. Griswold from Christmas Vacation. Tons of lights. Live Nativity scene. Even a real camel. People would come from all over to see this and all the donations went to help cure childrens' cancer.
But it wasn't enough the HOA didn't want it. Especially since they couldn't stop it because there was nothing in their own rules to prevent it. (You can just imagine how angry that made them.) No. These Grinches harassed his visitors, threatened Jeremy's family, even staged fake accidents. So after the HOA hired an attorney to try to stop it, and after the harassment got to a boiling point, Jeremy decided to sue his homeowner's association.
If he didn't take a stand, where would it end? Keep in mind, this is right on the heels of Christian bakers in Oregon being shut down by administrative rule.
We talk to Jeremy Morris to find a very different result for him and his family.  Listen to hear the precedent his winning brings in an unfriendly judicial system that could start to turn the tide on judicial Christian persecution.
Jerome Corsi—In Jail for Christmas…?
Then we talk with author and investigative reporter, Dr. Corsi. His newest book is Silent No More: How I Became a Political Prisoner of Mueller's "Witch Hunt". Although the hard copy won't be released until March 2019, the e-book version is available right now.
We talk with Dr. Corsi to discuss the circumstances of a horrendous Mueller attack that seems bent on destroying his life.  The Deep State learned well the lessons from the Obama administration on how to weaponize an agency. And Dr. Corsi, along many other patriots, is seeing it up close and personal.
What Corsi is facing is eerily similar to what happened to our previous guest, CIA whistleblower, John Kiriakou. Use the bottomless checkbook of the federal government and bankrupt your targeted victim. Kiriakou was forced into accepting jail or go bankrupt, lose his home and family. He took jail, and had to plead guilty, despite not actually being guilty.
They're doing the same to Dr. Corsi. Using what's called "the perjury trap," the FBI is trying to force Corsi to plead guilty for not remembering an email he sent two years ago or they will destroy him financially and bankrupt him until he has nothing left to fight with.
This video explains how Mueller runs the "PERJURY TRAP" making his inquisition into a memory test – I refuse to accept Special Counselor fraudulent plea deal that required I LIE before God & Court. I DID NOT willfully & knowingly give info I KNEW to be FALSE w INTENT to DECEIVE pic.twitter.com/uRzufVlyga

— Jerome R. Corsi, Ph.D. ⭐️⭐️⭐️ (@jerome_corsi) December 9, 2018
Fighting the Deep State
But in a courageous move, Dr. Corsi is fighting back. He filed two criminal complaints against Mueller and his henchmen, because he believes he's being persecuted solely due to his support of President Trump.  He's facing down a Deep State that has the money and time of the federal government to use to bankrupt him over a simple memory mistake.
How big of a fight is this? If this goes to trial, he's facing a $2 million lawsuit. To fight his own government.
You can help Dr. Corsi fight this incredibly important battle. Head to Corsi's Go Fund Me page to donate to his legal expenses.
Both stories are airing during our Christmas season that reminds us how important our values of a Christian based, small government system designed by our founding fathers is to protect us. But the war for freedom never ends as these two men demonstrate to us.  We must always stay vigilant and not allow anyone to take away our Christian beliefs or freedoms.
We know this isn't your (or our) typical Christmas show but from all of us here at I Spy Radio to all of you — wishing you a very Merry Christmas!
Podcast Version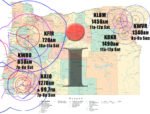 Never Miss an I Spy Radio Show!
Five Different Times, Six Different Stations. Listen anywhere! All stations stream live!
Saturdays
10a – 11a: KFIR 720AM (entire Willamette Valley) | Direct Link to KFIR Live Stream
11a – noon: KLBM 1450AM (Union County) | Direct Link to KLBM Live Stream
11a – noon: KBKR 1490AM (Baker County) | Direct Link to SuperTalk Live Stream
7p – 8p: KWRO 630AM (Oregon Coast & Southeastern Oregon) | Direct Link to KWRO Live Stream
Sundays
8a – 9a: KWVR 1340AM (Wallowa County) | Direct Link: KWVR Live Stream
7p – 8p: KAJO 1270AM (Grants Pass/Medford) | Direct Link: KAJO Live Stream
Links Mentioned