Human Trafficking is Real and it's Everywhere — Including Oregon
Podcast: Play in new window | Download
Subscribe: Apple Podcasts | Spotify | Stitcher | TuneIn | RSS | More
Show Summary: January is Human Trafficking Awareness Month. Human trafficking is real. And it happens right here in Oregon. Tune in to hear what you can do to help—and a conversation that could save someone's life.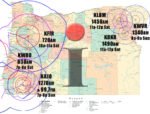 Five Different Times, on Seven Different Stations. Listen anywhere! All stations stream live!
Saturdays
10a – 11a: KFIR 720AM (entire Willamette Valley) | Direct Link to KFIR Live Stream
11a – noon: KLBM 1450AM (Union County) | Direct Link to KLBM Live Stream
11a – noon: KBKR 1490AM (Baker County) | Direct Link to SuperTalk Live Stream
7p – 8p: KWRO 630AM (Oregon Coast & Southeastern Oregon) | Direct Link to KWRO Live Stream
Sundays
8a – 9a: KWVR 1340AM (Wallowa County) | Direct Link: KWVR Live Stream
7p – 8p: KAJO 1270AM or 99.7FM (Grants Pass/Medford) | Direct Link: KAJO Live Stream
Air Dates: Jan. 18 & 19, 2020 | Andi Buerger & Karen Kataline
This Week: January is Human Trafficking Awareness Month (see White House press release) and here at I Spy Radio, we are doing our part to raise awareness of this important issue.
The thing real Americans fight for is our right to individual rights, even if we don't always agree what that looks like.  Freedom. Freedom is a God-given right.  And as Americans, we fight for those freedoms and against those who desire to change our country. And that includes socialist mindsets working against America.
The fight for freedom is expected of every generation. Especially as the next generation experiences its own pendulum swing as inexperienced youth try their hand at the world.  Sometimes, we take the idea of freedom for granted and it's even shocking to learn others, right here among us, have been deprived of theirs.
Tragedy of Human Trafficking
While we enjoy our freedoms and celebrate our American liberties, beneath it all, there is a sinister reality: human trafficking.  And not just from the deranged stranger who wants to snatch a soul off the street to abuse for their own evil purposes.
Sometimes, it happens by the very people they put their faith in—parents and relatives.  Parents who sell their children, or turn their back on them, as others see an opening of twisting human trafficking into a commodity and servitude. Right here in America, the Land of the Free, human trafficking is not only a reality, it's a multi-billion dollar industry.
Thankfully, there are those fighting against this and helping the victims.
To help a child or for more information:
The National Childrens Alliance operates Child Advocacy Centers (CACs) around the country with an interactive map to find a center near you.
The National Center of Missing and Exploited Children
Buelah's Place: Helping Homeless and Trafficked Teens
This week, I Spy Radio once again takes on one of the most difficult-to-discuss topics as we look at this issue and to raise awareness of it during January, which has been designated as Human Trafficking Awareness Month.
First up, we talk with Andi Buerger about her book, A Fragile Thread of Hope that discusses her rescue of four at-risk teens from life on the streets. She tells us about her powerful, personal story of lifting herself out of the life of abuse and trafficking.  An Oregonian, she talks about her life's work to help others in trouble, including Buelah's Place that has exciting news about helping more teens.
Recognize the signs of Human Trafficking
Recognizing key indicators of human trafficking is the first step in identifying victims and can help save a life. See the list of signs and indicators of human trafficking via the Department of Homeland Security
How Did Society get Here?
Then we talk with Karen Kataline, an MSW and talk-show host (Spouting Off, which you can catch through her website, www.karenkataline.com). We discuss her recent article, The Culture War That Threatens To Upend America that really analyzes how we got here and why the culture seems almost accepting of abuse and sex trafficking.  Karen also discusses some of the telltale signs of abuse and how to start a conversation.
This week is a fascinating conversation that you don't want to miss. And information you need to be aware of—your awareness and question might save a life.
Podcast Version
Links Mentioned
Related Links
NOTE: If you need help or want to help someone else, including emergency contact texts and hotlines, go to our Take Action against human trafficking page.
However, if you're just looking for more information about trafficking or where else to look, the resources on this page can point you in the right direction.
National Child Abuse hotline is 800-4-A-CHILD (800-422-4453)
Additional Information & Resources on Human Trafficking
Resources on Human Trafficking via U.S. Department of Homeland Security (DHS)
The Dept. of Homeland Security is actively fighting trafficking and trying to raise awareness under the banner of The Blue Campaign. They have a tremendous amount of resources and places to get help.
Facts and Figures
According to some estimates, approximately 80% of trafficking involves sexual exploitation, and 19% involves labor exploitation (

Dosomething.org

)

Human Trafficking Is an Epidemic in the U.S. It's Also Big Business

(via

Fortune, April 14, 2019

)

"…Trafficking is estimated to bring in global profits of about $150 billion a year—$99 billion from sexual exploitation, according to the

International Labor Organization

. Nearly 9,000 cases in the U.S. were reported to the National Human Trafficking Hotline and BeFree Textline in 2017—a 13% increase from the prior year, according to the

Polaris Project

. But this data is incomplete, as cases are severely underreported."

"Some of the biggest factors that lead vulnerable children to become vulnerable adults are poverty, homelessness, abuse at home, the foster system, and glamorization of the sex industry, what is essentially a "pipeline of vulnerability," said Dr. Sharon Cooper, founder and CEO of Developmental and Forensic Pediatrics."

"While prostitution is defined as the exchange of sex for money, drugs, or influence between two consenting adults—where consent can be given—human trafficking means there is third-party control."
Human Trafficking: Further Reading
Human Trafficking Facts via the Polaris Project
Sex trafficking victim estimates she's been raped 43,000 times (WKRN.com, Sept 2018)

FBI sting shows child sex trafficking still thriving in United States (

Christian Science Monitor, October 18, 2016

)

120 child sex traffickers arrested, 84 kids rescued in FBI sting (RT, Oct 19, 2017)

Human Trafficking/Involuntary Servitude (

FBI: What we investigate, Human Trafficking

)

"Over the past decade, the FBI's human trafficking investigations have been responsible for the arrest of more than 2,000 traffickers and the recovery of numerous victims."

From the Rutherford Institute: The Essence of Evil: Sex with Children Has Become Big Business in America (John Whitehead, Apr 23, 2019)