Show 5-09 | Pop Culture: Real American Heroes
Podcast: Play in new window | Download
Subscribe: Apple Podcasts | Spotify | Stitcher | TuneIn | RSS | More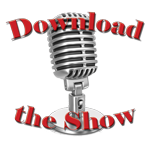 Air Dates: Feb 28 & March 1, 2015
In a week of depressing news stories, we need to remember the real heroes of America, like Chris Kyle—the title character of the blockbuster film American Sniper. We talk with Chris's co-author Scott McEwen.
Even though American Sniper didn't get the Oscar nod that its fans hoped it would, it was a tremendous success with the people who truly mattered: the American public. And we can guarantee that the 19 medals and awards that Chris Kyle earned meant far more to him than any silly gold statuette. With the incredible success of American Sniper at the box office, we check back in this week with Scott McEwen, Chris's co-author, to talk about the film and he does not disappoint. We get his—quite literally—behind the scenes insights into the film, his thoughts on the Oscars and his reflections on Chris Kyle, the man and the hero.
If you've seen the film or read the book, you know a big part of Chris's own healing was to help other vets—only to be tragically killed by a Marine. Now that the trial is over, we'll get Scott's take on it as well as the healing help that vets need. And don't miss his incredible news on what could be the next James Bond franchise.
Links mentioned