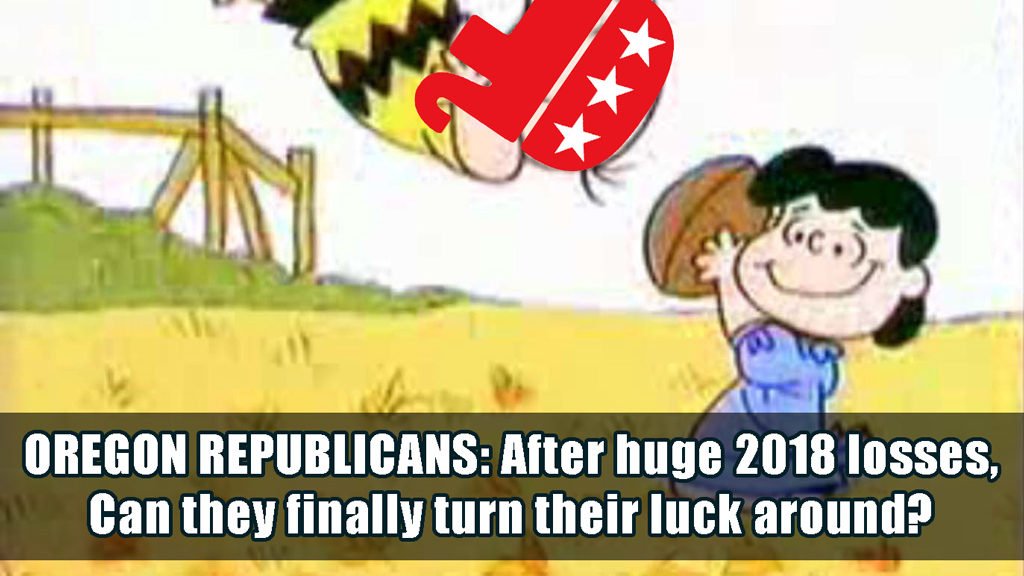 Oregon Republicans suffer huge losses in 2018. But is there hope?
Podcast: Play in new window | Download
Subscribe: Apple Podcasts | Spotify | Stitcher | TuneIn | RSS | More
Show Summary: After 30 years of losing the governorship, and huge losses in 2018, Oregon Republicans are starting to feel like the Charlie Browns of the political world. But there's hope to turn their luck around. Find out why.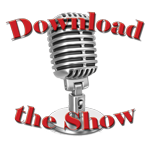 Original Air Dates: Nov. 17 & 18, 2018 |  Jayne Carroll & Sam Carpenter

This Week:  There's the famous 1969 TV commercial, where a boy asks Mr. Owl, "How many licks does it take to get to the Tootsie Roll center of a Tootsie Pop?" You know the answer. One… two… three.
How many losses, how many lickings, will it take before the Oregon Republican Party makes the changes needed to finally win in Oregon?
It's been 30 years (thirty!) since the last time Republicans won. 2018 was no different. Oregon Republicans lost the governor's race again. But Knute Buehler's race hurt down-ballot races as well. Oregon Republicans lost so badly to the Democrats that the Democrats have a super-majority in both the Oregon house and senate.
How many more losses will it take before something changes? That's what we'd like to know.
Oregon Republicans: Aftermath of 2018 Midterms
On last week's I Spy Radio Show, we talked about some bright spots in the 2018 midterms. Namely, some 2nd Amendment ballot initiatives that passed in eight counties. Eight. But we also talked about how Knute Buehler, the Republican candidate for governor, kept shooting himself in the foot by turning his back on his Republican base.
But we didn't talk about the party itself.  That's this week.
Fixing the Oregon Republican Party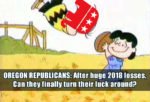 Maybe "fixing the Oregon Republicans" is the wrong way to put it (given the 2018 results, they're already pretty neutered). But something has to be done.
What has happened to Oregon's Republican party that led to the smacking we saw it take this last election?  Does nothing need to change? If nothing needs changed, then why do R's keep losing? If something needs to change, then what needs fixed to turn Republicans into winners?
Without asking those question we can't move forward. Clearly, something needs to change because it's blatantly obvious that how the party has always handled its business is just not working anymore. It's not just a matter of "get better candidates."
Make Oregon Republicans Successful Again
So we call upon two people who have different insights from two different perspectives.  One who has observed and reported on politics but has also managed campaigns and ballot initiatives.  And the other who has been a candidate and saw the dysfunction up close and personal—not only as a candidate but as a businessman who was a highly successful business  consultant, specializing in turning around failing businesses.
Jayne Carroll: A Political Observer's View
Jayne Carroll kicks off the show. We talk about Knute, his strategy to woo Democrats, what we can expect from two years of Democrat stranglehold, and the unfair and confusing ballot measures that have led to some people still thinking that "at least the grocery tax was defeated." (No. It wasn't.) Tune in to where the 2018 ballot measures are leading us and her thoughts on how the Oregon Republicans can start making inroads into the heart of the Blue Swamp, Portland and Eugene.
Sam Carpenter: Candidate & Businessman's Solutions
Then we turn to gubernatorial candidate Sam Carpenter, who discusses what happened during the primary. You may be surprised (shocked) at the supports the Oregon Republicans offer to candidates. Or doesn't.
We also ask him if he was a business turnaround consultant coming in to the ORP to fix its problems what would he do. It turns out, not only does he give specific examples of what needs to be fixed, Sam has decided to put action to his words and has announced he'll be running for the Chair of the ORP.  Leadership means everything and Sam wants to apply his skills of correcting an organization that continues its downward spiral that he wants to stop.
Are You Satisfied with the Oregon Republicans?
Are you satisfied with the Oregon Republican Party? Do we keep doing what we've been doing? Or is it time for something to change? Tune in to hear our guests to hear their suggested fixes — and then let us know what you think needs to happen to Make Oregon Red Again.
Podcast Version
Use our handy player to listen to the show.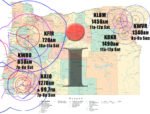 Never Miss an I Spy Radio Show!
Five Different Times, Six Different Stations. Listen anywhere — All stations stream live!
Saturdays
10a – 11a: KFIR 720AM (entire Willamette Valley) | Direct Link to KFIR Live Stream
11a – noon: KLBM 1450AM (Union County) | Direct Link to KLBM Live Stream
11a – noon: KBKR 1490AM (Baker County) | Direct Link to SuperTalk Live Stream
7p – 8p: KWRO 630AM (Oregon Coast & Southeastern Oregon) | Direct Link to KWRO Live Stream
Sundays
8a – 9a: KWVR 1340AM (Wallowa County) | Direct Link: KWVR Live Stream
7p – 8p: KAJO 1270AM or 99.7 FM (Grants Pass/Medford) | Direct Link: KAJO Live Stream
Podcast Version
Links Mentioned