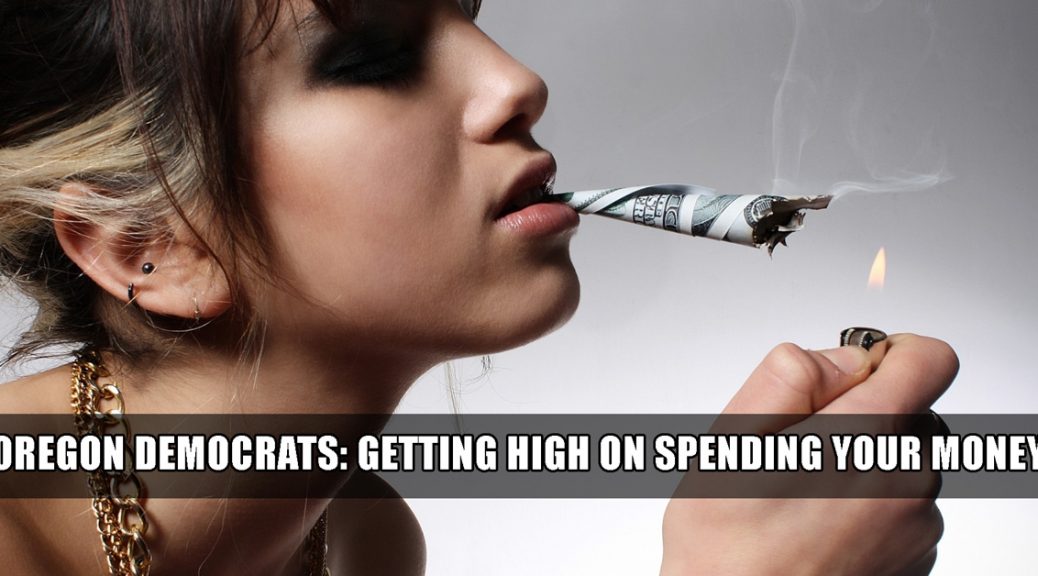 Oregon Democrats' Path to Destruction
Show Summary: Oregon Democrats aren't exactly shy about overspending taxpayer dollars. Indeed, they seem quite proud of the devastating 29% tax increase they are in the middle of passing in 2019. So why do they want to take away voters' ability to fight back?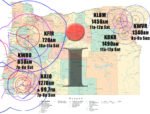 Five Different Times, on Seven Different Stations. Listen anywhere! All stations stream live!
Saturdays
10a – 11a: KFIR 720AM (entire Willamette Valley) | Direct Link to KFIR Live Stream
11a – noon: KLBM 1450AM (Union County) | Direct Link to KLBM Live Stream
11a – noon: KBKR 1490AM (Baker County) | Direct Link to SuperTalk Live Stream
7p – 8p: KWRO 630AM (Oregon Coast & Southeastern Oregon) | Direct Link to KWRO Live Stream
Sundays
8a – 9a: KWVR 1340AM (Wallowa County) | Direct Link: KWVR Live Stream
7p – 8p: KAJO 1270AM or 99.7FM (Grants Pass/Medford) | Direct Link: KAJO Live Stream
Air Dates: May 25 & 26, 2019 | Jeff Kropf
This Week:  There are taxes and then there are extinction-level taxes. Because Oregon Democrats seems to be lurching down the path of destruction — unless they can be pulled back from the brink.
Oregon Democrats: You have too much of your money
The Far-Left Oregon Democrats seems to revel in their super-majority ability to create taxes on a whim. With no chance from the Republicans to be able to stop them. Worse, they seem to take great joy in thumbing their noses at the everyday Oregonians by mislabeling taxes and working hard to take away Oregonians' ability to stand up in protest.
There is a lot under discussion this week on I Spy Radio. While we know it's Memorial Day, this is exactly why all those sacrifices were made. So we can fight the battle on the Home Front.
Oregon Democrats: New and Artful Taxes
Democrats are finding new and creative ways to layer taxes on top of other taxes—all while saying but this is just a little percentage and won't add up to much. Except, when you add all the layers together they add up to a lot.
For example, take the "tiny" .57% tax the Democrat supermajority just passed—the Corporate Activities Tax (more accurately, the Gross Sales Tax). However, this tiny unnoticeable tax (HB3427) will raise $2 billion in new taxes. Most importantly, this bill taxes the gross sales, not net profits. (Yes, this is a sales tax.) In other words, if your low-margin business spends $95 to make a product and you sell it for $100, you will be taxed on the full $100, not your $5 in profit.
Most importantly, that "tiny tax" is on top of any other taxes you're already paying?
Remember: this gross receipts tax / shadow sales tax is a repeat of a ballot initiative Oregon voters rejected just two years ago. Pesky voters! You don't get to decide. Oregon Democrats know better.
A Whopping 29% Increase in Taxes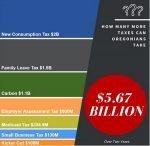 But that's just the beginning. In addition to the Gross Receipts Tax, here are a few of the tax hikes the Far-Left are supporting and are likely to pass:
Family Leave $1.5 billion
Carbon Tax $1.1 billion (at a minimum!)
Employee Assessment Tax $500 million
Medicaid Tax $335 million
Small Business Tax $130 million
Kicker Cut $108 million
All told, that is $5.673 billion in new taxes. Counted against the General Fund, that is a tax increase of almost 29%. Twenty-nine percent.
What's even a more difficult to stomach is not a moment's pause to even consider cutting spending. When is enough, enough?
Oregon Democrats Want to Silence Ballot Initiatives
And while the Far Left wants to cut the Kicker Tax and keep $108 million of it for government, here's another kicker: they want make it harder for Oregonians to bring ballot initiatives to the voters. Enough is enough.
It's time for action. We talk with Jeff Kropf, former Oregon legislator and current head of Oregon Capital Watch Foundation (OCWF.org.) about these staggering new taxes and a potential challenge to the Gross Receipts Tax.
Again. Because Oregon voters defeated this same tax just two years ago. But we can't stop fighting. If we do, and if the Democrats in Salem get their way, this may truly be the last chance we have.
Tune in this week to hear what's coming and what to do about it.
Podcast Version
Trapped under a heavy object? Missed the show? Don't worry—the podcast version will be right here after the show airs.
Links Mentioned
Additional Links & Info
Read the text of

HB3427

 of HB 3427

, Oregon's Shadow Sales Tax, aka "Corporate Activity Tax," "Gross Receipts Tax," "Student Success Fund."

Rosa: Gross Receipts Tax Will Hurt Oregon Ag (

Washington AG Network, May 15, 2019

)

Oregon Revenue Forecast Shatters Expectations, Largest-Ever Kicker On Its Way (

OPB, May 16, 2019

)

Oregon Democrats vote to cut 'kicker' tax rebate by $108 million (

OregonLive, April 2, 2019

)

Gov. Kate Brown signs reduced 2020 kicker rebate into law (

Herald and News, April 11, 2019

)

State economist predicts 2019 'kicker' (

East Oregonian, May 23, 2018

)

Farmers fret $2 billion tax (

Natural Resource Report, April 22, 2019

)

Standoff Over, Ore. Sens. Give Final OK To Gross Receipts Tax (

Law360, May 2019

)

Bills Passed in 2019 Legislature (

OregonLive, May 21, 2019

)

Oregon Democrats Sacrifice Pro-Vaccine and Gun Safety Legislation to Fund Public Schools (

Portland Mercury, May 14, 2019

)

Oregon Among Worst States for Small Business (

GoLocalPDX, Jan 29, 2015

)

Americans continue to flow to low-tax states (

ZeroHedge, February 14, 2019

)

Does Nike Play Fair in Oregon? (

Prosperous America, Apr 26, 2019

)

Power play: Nike takes a big role in Oregon tax policy (

Oregon Live, Nov. 10, 2018

)