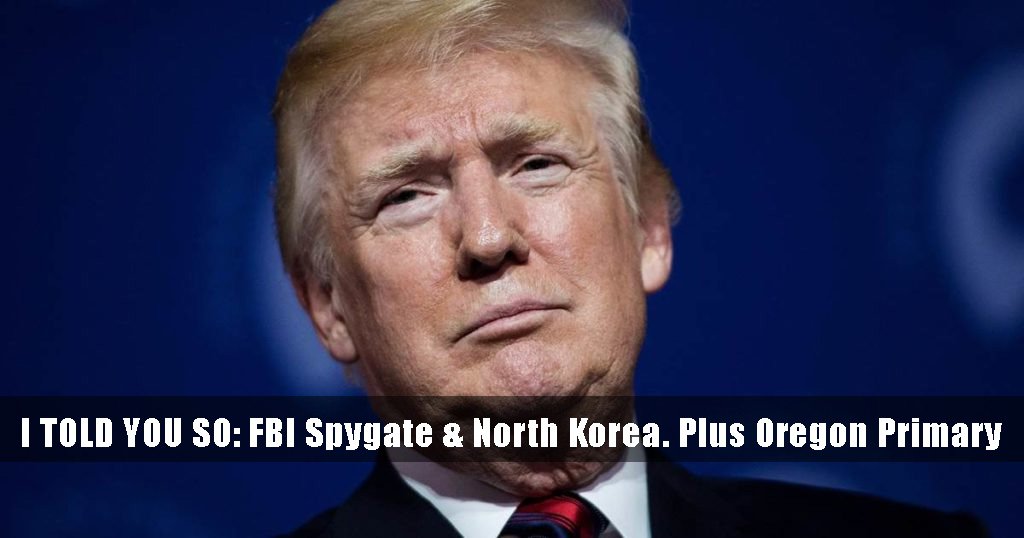 Uncomfortable Questions – FBI Spygate, North Korea & What Happened in the Oregon Primary
Podcast: Play in new window | Download
Subscribe: Apple Podcasts | Spotify | Stitcher | TuneIn | RSS | More
Show Summary: Uncomfortable questions in this week's I Spy Radio Show. The FBI's Spygate, the real reasons the North Korean peace talks were cancelled, and the Oregon Primary: what happened, how to fix the Oregon Republican party. Can it be repaired? And how?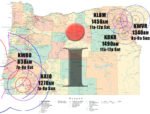 All Stations Stream Live!
Saturdays
11a – noon: KLBM 1450AM (Union County) | Direct Link to KLBM Live Stream
11a – noon: KBKR 1490AM (Baker County) | Direct Link to SuperTalk Live Stream
7p – 8p: KWRO 630AM (Oregon Coast & Southeastern Oregon) | Direct Link to KWRO Live Stream
Sundays
8a – 9a: KWVR 1340AM (Wallowa County) | Direct Link: KWVR Live Stream
7p – 8p: KAJO 1270AM (Grants Pass/Medford) | Direct Link: KAJO Live Stream
Air Dates: May 26 & 27, 2018 | Kristina Wong & Jayne Carroll

On this Memorial Day weekend, we remember those who've gone before. We salute those who died in the service of this country, who put their lives on the line to protect and defend our country.
But we also should remember those who came before us who helped build this country. Who lived perfectly ordinary lives. Who taught us. Preached sermons. Who raised crops and businesses and the next generation. Who voted and participated and who helped keep alive the dream our Founding Fathers gave us.
We all know the saying, freedom is one generation from extinction. And while that's true, we also hear all the time that our freedom is under attack today more than it ever has been before. But it really is true. Our Freedom is under attack now more than ever. Why? Because the enemies of Freedom keep coming up with new and inventive ways to undermine freedom.
Think for a moment of where we are today. And then think how bad it will be one generation from now.
FBI Spies and Lies
In the 70s it was Watergate. A second-rate burglary of a political opponent by operatives of the Nixon administration that led to a coverup and his resignation.
Now, some 40 years later, we have "Spygate".
Instead of a second-rate burglary by political aides, the Obama administration used actual trained and hired spies and informants from the FBI to go after a political opponent. This led to a coordinated and well-planned effort to stage a not-so-silent coup attempt of a duly elected president. We're in the middle of the attempted coverup. But will Obama face charges? Will his co-conspirators face charges?
A generation after Nixon, we have less freedom and less Justice. Every aspect of our life is spied on by every element of government. In Nixon's time, people went to jail. Today, those responsible for spying on a political opponent seem highly unlikely to face any real justice. You can barely even fire them.
Uncomfortable Questions about FBI Spygate
Imagine the non-stop howling and shrieking by the mainstream media if George W. Bush had used the FBI, CIA, and to investigate Obama because they thought he might be a Muslim.
They'd still be wiping up the blood from the set of CNN as a steady stream of heads exploded non-stop for months at a time. But the FBI's Spygate? Silence and denial where there should be utter
But something strange happened as a result of Obama was weaponizing the federal government against its citizens: the truth came out. Yes. The truth. The Russian collusion has gone out the window. Now, the truth emerges as the FBI Spygate destroys Russian collusion narrative.
The whole Russian Collusion narrative has fallen apart. #Mueller's best hope now is that some low-level Trump campaign aid may have forwarded an email chain letter that eventually went to someone of Russian heritage.

— Mark Anderson (@ispyradio) May 24, 2018
The truth is, we know Obama's FBI, CIA, IRS, NSA, and others were all snooping on candidate Trump. We know Obama was using the Attorney Generals to go after global warming deniers. We know Obama used the IRS to harass and target conservative non-profits.
So here's the question: was Obama not the first to do this?
Could this be why the FBI has been so unwilling to admit there were actual spies, "human intelligence," being used to infiltrate the Trump team. And even try to entrap Trump officials?
But where are the sensible Democrats? They're silent. And that's a mistake. Because
if freedom is one generation away from extinction, remaining silent only speeds that extinction. If Democrats are okay with Obama spying on and setting up Trump to take a fall — they're giving permission to Trump to do the same thing to a Democrat opponent.
We should all be united on this. Freedom is worth defending. Even if it means fighting for your opponent's rights and freedom.
This Week's I Spy Radio Show
On today's show, we'll talk national issues with Kristina Wong of Brietbart News. We'll talk the demise of the Russian collusion narrative, we'll talk SypGate, and a surprising reason why the NK talks may have suddenly been cancelled.
And we'll talk statewide issues with The First Lady of Conservative Talk Radio, Jayne Carroll. We'll ask some uncomfortable questions about what happened in the Oregon primary.Sam Carpenter supporters think Greg Wooldridge may have been a plant to split the conservative vote and get Knute Buehler in. Was he?
Regardless, the Republican Party of Oregon is floundering. And failing. Declining numbers of voters  registered as Republicans (a paltry 27%), no energy, no excitement, and a poor turnout in the primary. What can be done?
We'll discuss repairing the Republican party here in Oregon and what that might look like.
What are your ideas to fix the Republican Party? Does it need fixed? Does the party need more control over who runs as a Republican? Is it just more money?
We'd love to hear from you! Comment below, send an email (mark @ ispyradio.com). Or send a tweet or direct message to us, @ispyradio.
Podcast Version
Trapped under a heavy object? Missed the show? Don't worry—the podcast version will be right here after the show airs.
Links Mentioned
Related Links