Subscribe to Podcast
Subscribe to Podcast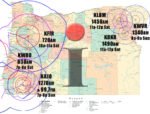 I Spy Radio can be heard around Oregon at five different times on weekends on seven different radio stations—and anywhere in the world via our stations' live streaming. But now you can also subscribe to I Spy Radio on your favorite podcasting sites! Apple Podcasts (formerly iTunes), Spotify, TuneIn, Stitcher, and more.
When you subscribe, you will automatically get notices of the latest episodes. Just use your favorite podcasting service below. We will be adding more sites a.s.a.p. Don't want to use a podcasting site ? That's okay. Use the "by email" link and the service will notify you of new podcasts. Plus, you can always podcasts of our shows right here on our site, on the original pages or on our archives page.
You can also always subscribe to our mailing list and get personal notices of upcoming shows. Once a week, usually Fridays, we send out a weekly show notice to let you know what's coming up, who's coming on, and a little sneak peak at what we'll be talking about. Send an email to Listener's List. We promise we do not spam and we will never sell your email.
Subscribe to
I Spy Radio Show
Or subscribe with your favorite app by using the address below
iOS (iPhone, iPad, and iPod)
Select the "Subscribe on Apple Podcasts" button above.
Mac and Windows
Select the "Subscribe on Apple Podcasts" button above.
Android and Amazon Fire
Select the "Subscribe on Android" button above.
Your favorite app not listed?
Just copy the address found in the box above and paste into your favorite podcast application or news reader.
Bookmark this podcast
To bookmark this podcast site, press the "Ctrl" and "D" keys on your Windows keyboard, or "Command" + "D" for Mac.