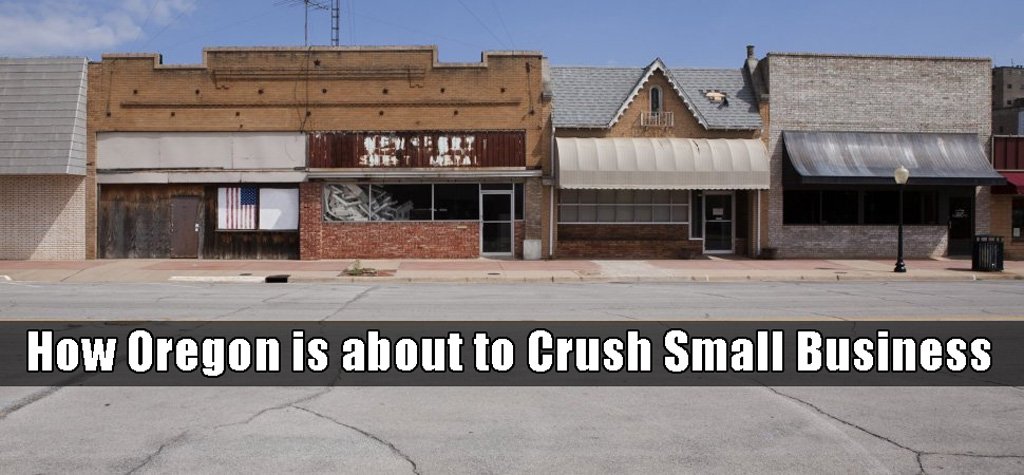 How Oregon will Crush Small Business Thanks to Governor Kate Brown
How Oregon will Crush Small Business Thanks to Governor Kate Brown
Podcast: Play in new window | Download
Subscribe: Apple Podcasts | Spotify | Stitcher | TuneIn | RSS | More
Show Summary: Tune in to hear how small business is about to be crushed in Oregon. If you are running for office you need to listen to this show. If you plan to vote for someone running for office you need to listen to this show. If you own a small business or work for one, you really need to listen to this show. You need to know the storm that's about to be unleashed on small business, thanks to Oregon's Governor Kate Brown.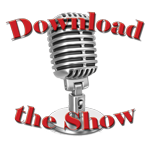 Original Air Dates: April 14 & 15, 2018 | Guest: Jonathan Williams of ALEC

Some states are scrambling for money as big debts are coming due. And Oregon is leading the way—just not in finding the right answers that would promote economic health.
Instead, Democrat Governor Kate Brown seems to be almost working overtime to crush our state's innovative spirit. So she's not only killing our ability to not only pay our bills but taking an axe to what could be (with better management) a positive economic environment for small businesses. Or even attract them from other states.
But not in Oregon. Instead, there is a real storm coming for small businesses here in Oregon.
Crushing Small Business. Oregon Style
One of the things you'll hear in the show this week is how Oregon is targeting small business by divorcing them from the Trump tax break. But then there's a coming sales tax.
Yes. A sales tax in Oregon.
This is the internet sales tax that is being heard next week in front of the Supreme Court. Oregon small businesses would be forced to collect taxes for states like New York and Washington that have their own sales tax.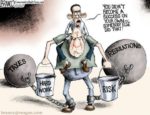 But unbeknownst to many, Oregon's own State Attorney General has signed onto an Amicus Brief to allow a national sales tax on internet purchases.  This will be crushing to Oregon's small businesses with the increased costs of processing this sales tax. For other states.
It's the foot in the door to finally create the sales tax Oregon's Democrats and Big Government Republicans have been longing for.
[wpedon id="2365″ align="center"]
See below for an excerpt from the brief that includes not only more taxes but more prying into your personal lives. Have our elected leaders gone insane? Has no one heard of cutting spending?
Oregon Democrats hate cutting spending almost as much as they hate cutting trees.
Show Flow
We start by discussing Congress's Omnibus bill, which sets the stage for the rest of the discussion.
Then we move to the Left's "boogeyman": Kansas and their ill-advised massive tax cut and spending increase. Why? Because the Left uses Kansas to try to scare other states away from cutting taxes. We debunk the myth because what happened in Kansas can help other states learn what not to do (hint, hint Oregon!).
Next, we talk about what Oregon is doing to crush small business, including taking away tax cuts. It's a punishment that falls on small businesses and only small businesses. Then, it's the internet sales tax and the grand daddy of spending boondoggles, PERS.
Make no mistake: this is @OregonGovBrown's open warfare on #SmallBusinessOwners. Intel & other mega-corps won't pay this tax

Ironic that this is #PDXStartupWeek

How many of those entrepreneurs know they're about to punished by Oregon's Dems for daring to open a biz in Oregon? https://t.co/OwJAdXIJUl

— Mark Anderson (@ispyradio) April 4, 2018
But there is good news (just not in Oregon). Don't miss what nearby state to watch as the primary example of how smart policies really can create economic health.
Oregon's Attorney General Rosenblum's Amicus Brief
"Their [businesses] advanced online platforms boast impressive technology that enables them to not only comply (easily) with State [tax] collection laws, but also capture extensive data about their customers. According to one commentator, an online retailer can effortlessly track demographic information that includes "'your age, whether you are married and have kids, which part of town you live in, how long it takes you to drive to the store, your estimated salary, whether you've moved recently, what credit cards you carry in your wallet and what Websites you visit … data about your ethnicity, job history, the magazines you read, if you've ever declared bankruptcy or got divorced, the year you bought (or lost) your house, where you went to college, what kinds of topics you talk about online, whether you prefer certain brands of coffee, paper towels, cereal or applesauce, your political leanings, reading habits, charitable giving and the number of cars you own.'"
The full Amicus brief can be read here (PDF)
Podcast Version
Links and Related Information
Oregon Governor Kate Brown to Crush Small Business
PERS
Kansas: the Left's Anti-Tax-cut Boogeyman
Here's some Leftist spin on what happened in Kansas
The Coming Storm for Small Businesses: the Internet Sales Tax