Mainstream media is lying by ignoring
Mainstream media is lying by ignoring
Show Summary: While the mainstream media is inventing news about alleged "Russian hacking" there are calls for war from Muslims—right in the middle of London. Former jihadist, Kamal Saleem, on the terrifying aspects of what these Islamists are really calling for and explains why. Plus, bestselling author Scott McEwen (of American Sniper fame) on what his intelligence agency contacts tell him about the alleged Russian hack, his friend Ryan Zinke's appointment to Department of Interior, and what it means for the movement for the transfer of public lands to the states.
Visit our Christmas Store! All the books from our guests this year all in one convenient spot!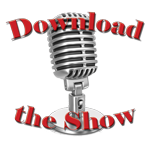 All Stations Stream Live!
11:00AM Saturday: KUIK (Portland) | KBKR (Baker City) | KLBM (La Grande)
7:00PM Sunday: KAJO (Grants Pass)
Air Dates: Dec 17 & 18, 2016 | Kamal Saleem & Scott McEwen

With the mainstream media so focused on inventing news about the alleged "Russian hacking" of our election, there is a lot of real news that's being ignored—like open calls for war and rebellion from Muslim immigrants right in the heart of London.
We'll talk with Kamal Saleem, a former cultural jihadist who came to America to destroy it from within but after an accident changed his life, he converted to Christianity. He is now the president of Koome Ministries, which has as its mission to wake up the Church and alert Americans about the un-discussed dangers of Islam and how they really are at war with America, whether America wants to admit it or not.
Then we talk with New York Times bestselling author, Scott McEwen about the alleged Russian hack and what his military sources are telling him. Also, Scott's latest book is American Commander, which follows the life and career of Ryan Zinke, a former Navy SEAL who became a SEAL trainer. Zinke explains his never-surrender, always-win attitude as he trains the next generation of SEALs. Now that Zinke has been nominated as the Secretary of the Interior, what will this winning mentality mean to this failing federal department?
Links Mentioned
Visit our Christmas Store! You can order Scott McEwen's books and find the books of any of the authors who have been guests this year on I Spy Radio!
Kamal Saleem's Segments
Scott McEwen's Segments