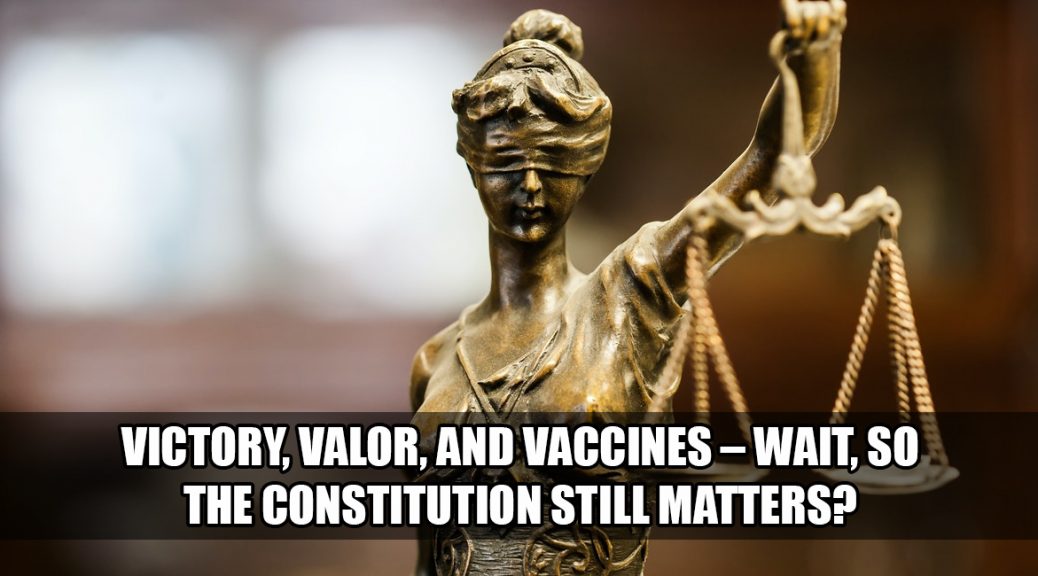 Victory, Valor, and Vaccines – Wait, so the Constitution Matters?
Podcast: Play in new window | Download
Subscribe: Apple Podcasts | Spotify | Stitcher | TuneIn | RSS | More
Show Summary: Just when you thought the Constitution didn't matter any more, along comes Southeastern Legal Foundation's huge win in federal court to throw out the CDC's power grab to block landlords from evicting renters. Updates on SCOTUS failing to take up voter fraud, the Texas power grid failure, and covid vaccines.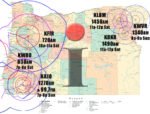 Five Different Times, on Seven Different Stations. Listen anywhere! All stations stream live!
Saturdays
10a – 11a: KFIR 720AM (entire Willamette Valley) | Direct Link to KFIR Live Stream
11a – noon: KLBM 1450AM (Union County) | Direct Link to KLBM Live Stream
11a – noon: KBKR 1490AM (Baker County) | Direct Link to SuperTalk Live Stream
7p – 8p: KWRO 630AM (Oregon Coast & Southeastern Oregon) | Direct Link to KWRO Live Stream
Sundays
8a – 9a: KWVR 1340AM (Wallowa County) | Direct Link: KWVR Live Stream
7p – 8p: KAJO 1270AM or 99.7FM (Grants Pass/Medford) | Direct Link: KAJO Live Stream
Mondays
After the show airs on our network of radio stations, you can listen to our podcast either here on our site or your favorite podcast platform. We are now on Apple podcasts, Spotify, Stitcher, TuneIn, and more. See the full podcast list.
Original Air Dates: Mar 5th & 6th, 2021 | Kimberly Hermann & Chuck Wiese

This Week: Do you ever sit in your living room and think the world today just feels off?
In Oregon that's not hard to do when we think about what people have endured over the past year.  From businesses shut down orders, to losing their sole income—while watching bills pile up.
Victory in Federal Court: Overruling the CDC's Power Grab
In all of this, renters were hugely impacted; they lost jobs only to find that no job might mean no home.  So the Centers for Disease Control (CDC) stepped in and upended Constitutionally guaranteed property rights and declared a moratorium to evictions. Which sounds nice. Except, why is the CDC (which is hardly an economics agency) inserting itself into private property rights and contract law? And, as usual, Leftist thinking left out the other half of the equation.
Because on the flip side, people were taking advantage of the situation by not paying rent — and landlords were being forced into not being able to pay their investment mortgages that also kept the roof over the renters' heads.
Southeastern Legal Foundation: Big Win over Government Overreach
It was bad enough that the government stepped in, telling business owners their revenue streams were shut off, causing disruptions of US free markets like never before.  But then to declare that if renters can't (or won't) pay, they can't be evicted. And there sat the landlords, footing the bills. Imagine if the CDC, with their economic insights, had deemed customers could walk into stores and take whatever they want and not have to pay for it.  What other powers could the CDC seize for itself? Or what other rights could the CDC take away on a whim? Property rights are the cornerstone of the Constitution.
Enter Kim Hermann , the General Counsel for Southeastern Legal Foundation, which stood up to tyranny and sued to protect constitutional rights.  And, in an exciting slam of the gavel, the judge determined the CDC's moratorium on evictions was unconstitutional.
And suddenly with that decision the world started to right itself. Just a little bit.
We talk to Kim about what this case meant and what does it mean for upcoming cases in the future.  We also talk to her about election laws, the Supreme Court's decision to not hear any election fraud cases, and H. R. 1, the legalizing- election-theft bill just passed by Congressional democrats.  She also talks about what the states are working on to correct that election integrity problems. Brave men and women who are stepping up to help fight another good fight.
Updates on Texas's Green Energy Failure and on the Vaccines
Then, scientist Chuck Wiese returns to give us some of updates on two stories we recently talked to him about: the power grid situation in Texas and the covid vaccines.  But before we dip into those, Chuck shares with us his own experiences of being a landlord and what's happened in Oregon.
Tune in to hear how once again Oregon was the Petri dish for Leftist ideology as it whittled away at property rights of landowners under Governor Kate that perhaps set the stage for the CDC's eviction moratoriums.  We also talk with him about some updates on what is going on in oil-rich Texas and why so many climate and green energy officials in Texas have quit since their big storm.  And we touch base to get his thoughts on the latest vaccine and some ongoing concerns about the pandemic and the government's response to it.
And when we fold all the above information into one big package we have to wonder if we will ever hear the truth from any government officials.
The I Spy Radio Show Podcast Version
Trapped under a heavy object? Missed the show? Don't worry—catch the podcast version. I Spy Radio is now available on your favorite platform, or you can grab it right here. The player should be right at the top of the page. See the full list of podcast options.