Doing Great Things During Hard Times: Oregon's Truckers
Podcast: Play in new window | Download
Subscribe: Apple Podcasts | Spotify | Stitcher | TuneIn | RSS | More
Show Summary: Truckers have always been everyday heroes. Right now, with Oregon's wildfires, they are larger than life heroes. We talk with Jana Jarvis of OTA, to find out what they're up against.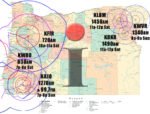 Five Different Times, on Seven Different Stations. Listen anywhere! All stations stream live!
Saturdays
10a – 11a: KFIR 720AM (entire Willamette Valley) | Direct Link to KFIR Live Stream
11a – noon: KLBM 1450AM (Union County) | Direct Link to KLBM Live Stream
11a – noon: KBKR 1490AM (Baker County) | Direct Link to SuperTalk Live Stream
7p – 8p: KWRO 630AM (Oregon Coast & Southeastern Oregon) | Direct Link to KWRO Live Stream
Sundays
8a – 9a: KWVR 1340AM (Wallowa County) | Direct Link: KWVR Live Stream
7p – 8p: KAJO 1270AM or 99.7FM (Grants Pass/Medford) | Direct Link: KAJO Live Stream
Air Dates: Sept. 12th & 13th, 2020 | Jana Jarvis of Oregon Trucking Associations
This Week:  Even during times of pandemics and extreme forest fire conditions, Oregon's consumers still depend on trucking for 80% of its goods.  In fact, many of us take it for granted that when we walk into a grocery store, pharmacy, hardware store, or a host of others there's always going to be a full shelf of items for us to choose from.
IMPACTED by Oregon's wild fires? Find resources to help, what to do, and info on alert levels at Oregon's Wildfire Resources
But when we look around and see during current times with government's mandates about when and how we're to shop and gather; or roads closed because fires have over taken much of Oregon's western counties but are fully open on the eastern side of the mountains, stores still get stocked.  It is doing great things during hard times.
Wildfire Resources by County, including latest Announcements from local officials
How have these men and women managed to keep the goods we need flowing, while adapting to stressors that would send many of us over the top if it were our job?  Especially as these same men and women have their own families and homes, and are faced with the same emergencies as the rest of us.
Oregon Trucking Associations
So we take a look into the world of truck driving and find some rather remarkable surprises—like jobs, jobs, jobs.  And good, family wage jobs even for those who don't want to travel or be away from family.  But we also learn about the amount of work for these truckers that goes into complying with regulations. And did you know that Oregon has some of the nation's highest costs attached to operating rigs here?  No surprise maybe, but even there, there are some in government who want to make things in Oregon even worse.
And remember, it was these everyday heroes who stopped the dreaded cap and trade tax. Truckers united with loggers to stand up to government. Find out what it takes to do their jobs and you'll find out how and why they have the discipline to come together and fight for what they believe in.
And with all the devastation from wildfires in Oregon, we will need more of these heroes than ever before.
Podcast Version
Links Mentioned
Related Links