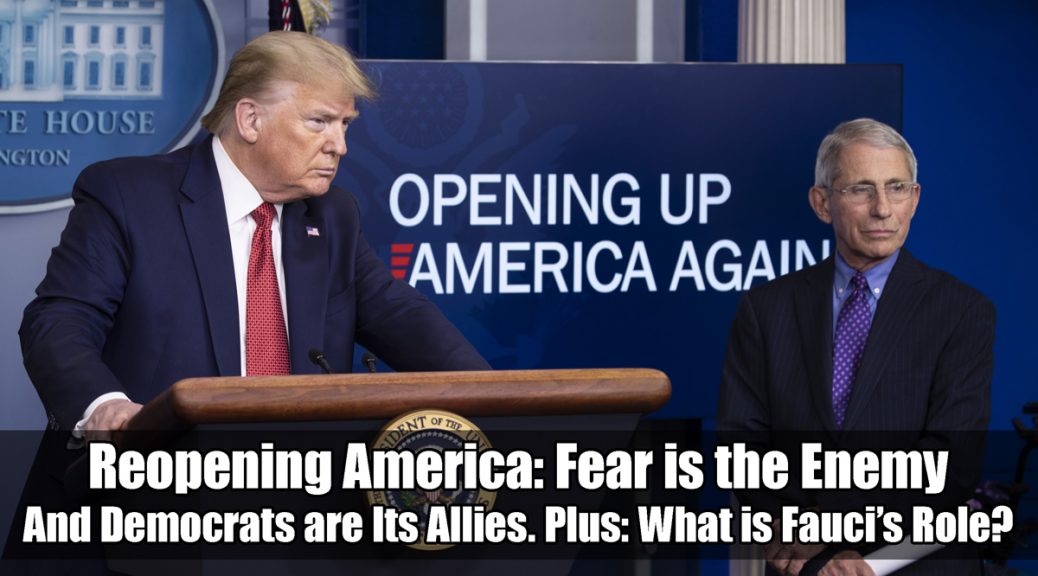 Reopening America: Fear is the Enemy and Democrats are Its Allies
Show Summary: Why is it Democrats fight against reopening America? Fear. They live it. They want you to live in it. A mixed show this week: exposing Dr. Fauci and Bill Gates. Helping entrepreneurs get started.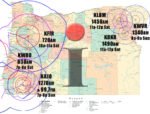 Five Different Times, on Seven Different Stations. Listen anywhere! All stations stream live!
Saturdays
10a – 11a: KFIR 720AM (entire Willamette Valley) | Direct Link to KFIR Live Stream
11a – noon: KLBM 1450AM (Union County) | Direct Link to KLBM Live Stream
11a – noon: KBKR 1490AM (Baker County) | Direct Link to SuperTalk Live Stream
7p – 8p: KWRO 630AM (Oregon Coast & Southeastern Oregon) | Direct Link to KWRO Live Stream
Sundays
8a – 9a: KWVR 1340AM (Wallowa County) | Direct Link: KWVR Live Stream
7p – 8p: KAJO 1270AM or 99.7FM (Grants Pass/Medford) | Direct Link: KAJO Live Stream
Air Dates: May 23 & 24, 2020 | Clay Clark
This Week: Memorial Day weekend reminds us of all the American men and women in the military that lost their lives to protect our freedoms. And we've just lived through how, in only a few short weeks, those freedoms could be lost.
Reopening America: Fighting Fear, Fighting Democrats
Governors, almost exclusively Democrats, seemed to relish canceling freedom and liberty using their dictator-like powers, including Oregon's Governor Kate Brown who claimed her powers exceeded not only the Oregon Constitution but even the U.S. Constitution. She and she alone could decide who could walk the streets, keep their business open, and who couldn't.
Not to mention she could cancel your First Amendment rights to gather to worship by declaring churches a health hazard — while deciding Wal-Mart was not.
But it begs the larger question. What are they so afraid of? The virus? Or losing power? Right now, it seems they are more afraid of losing their grip on power than winning against the virus.
Entrepreneurs and Reopening America
It's a mixed show this weekend. But in a good way. We bring to our show for the first time a quite different type of show for I Spy with our guest Clay Clark, an award-winning businessman for his entrepreneurial expertise. Clay has helped over 2,300 businesses and we wanted to get his thoughts on reopening America. And the important role entrepreneurs can and will play.
Clay discusses his devout beliefs in God and our county's amazing freedoms. Using humor to approach difficult issues, Clay also talks about his deep frustrations with shut down orders. He points to Sweden, who despite not having any shutdowns, has had only 6 deaths per one million persons. He discusses their approach to COVID and why they have such a low death rate, along with the wrong decisions made here that led to worse results, despite being "based on science."
Science will Save Us! Or is it being used to push Fear?
Not stopping there, Clay launches into government orders that keep shifting as "the science" shifts and what it's done to business owners, let alone families. Or experts using error-filled computer models, which were never right, as the justification to keep us all locked up. And as states start to reopen and the fears some may feel, Clay, talks about what it will take for people to rebuild their life, or start a new business, or how to keep a business going.
As his sense of humor targets those politicians and experts who have given us ridiculous rules to follow, it's a show that you will want to seatbelt yourself in and prepare for takeoff.
Fear Unmasked: Discover the truth about the Corona Virus Shutdown
We also spend a couple of segments discussing his recent ebook, Fear Unmasked: Discover the Truth about the Corona Virus Shutdown. The book is available as a free e-book because it was banned on Amazon. You'll have to tune in to hear why.
Download Fear Unmasked as a PDF here
But we can say it exposes Dr. Fauci and his work with the Bill Gates Foundation as they rush toward a vaccine and virus tracking, which they hope will be forced on every American.
And before you think it will never happen here, famed attorney Alan Dershowitz—who only a few months ago was defending the President against unconstitutional impeachment efforts—recently aired his true feelings and said you have no Constitutional right to not be vaccinated. The government, he said, has the absolute right to drag you to a doctor and forcibly plunge the needle in your arm.
These are the "freedoms" our brave vets fought and died for?
Check out Alan Dershowitz appalling video, in which he proclaims The State can force you to get a vaccine and you have no Constitutional right to say no. Fast forward to 21:00
And don't miss Clay's announcement of his big Memorial Day, outdoor church gathering in Chicago where thousands are expected to gather. Go here for more details and check the Facebook page for live streams of the event.) Christian leadership, such as Mike Huckabee are helping to get the word out. Live streaming the event he's hoping many will watch as they remember our fallen.
Podcast Version
Trapped under a heavy object? Missed the show? Don't worry—the podcast version will be right here after the show airs.
Links Mentioned
CDC: "Whoopsies!". The CDC  now says coronavirus 'does not spread easily' on surfaces (

NY Post, May 20, 2020

)

So what did we shut everything down for?

The Alan Dershowitz appalling video (fast forward to about 21:30).

"

Let me put it very clearly: You have no Constitutional right not to be vaccinated. … You have no right not to wear a mask. And if you refuse to be vaccinated, the State has the power to

literally

take you to a doctor's office and plunge a needle into your arm.

"

Clay Clark's websites are Thrive Time Show and Thrive 15

Oregon budget has a $3 billion gap (

Portland Tribune, May 20, 2020

)

Doctors raise alarm about health effects of continued coronavirus shutdown (

Fox News, May 20, 2020

)

Fear: Doctors raise alarm about health effects of continued coronavirus shutdown: 'Mass casualty incident' (

Fox News, May 20, 2020

)*

The lockdown has done untold damage to this country (

Spiked Online, May 20, 2020

)

"The role of the citizen in the Covid dystopia is to applaud the state, not question it."
"How has the subjugation of democracy, liberty, daily life and reason to Covid hysteria been so successful? Through terror. It is not an exaggeration to say that the government launched a campaign of terror against the populace. Government adviser Professor Robert Dingwall is right to say that officials have 'effectively terrorised' people into believing that coronavirus will kill them. We have been incited to fear not only a disease, but each other."
"Polls show that many people are now reluctant to go back to normal life. Many want schools to remain closed. There is fear about returning to work."

CNN's Anna Coren Doesn't Want to Hear the FACTS | Clay Clark on CNN (Short Version) (via

YouTube, May 2020

)

Trump signs executive order to create 'Bill of Rights' for businesses during pandemic (

Just the  News, May 20, 2020

)*"President Trump signed an executive order Tuesday directing federal agencies to use emergency authorities to quickly identify regulations that can be rescinded or temporarily waived to spur job growth. The executive order includes a "Regulatory Bill of Rights," putting the onus on rule-makers to be circumscribed and transparent in how they go about enforcing violations."


Economist Paul Romer says coronavirus impact 'likely to be worse than Great Depression of 1930s' (

Just the News, May 2020

)